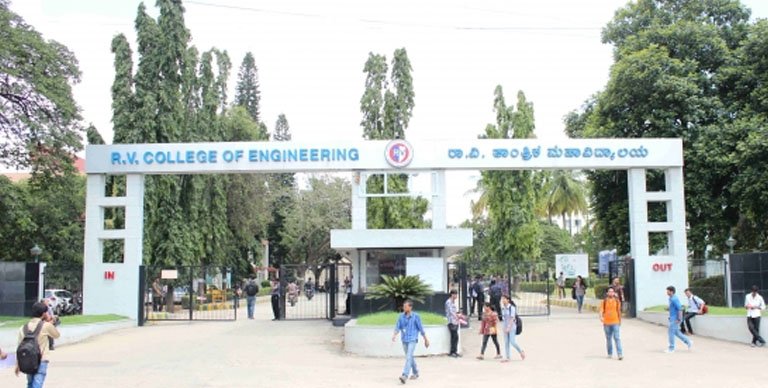 RV college of Engineering, Bangalore (RVCE)
RV College of Engineering, Bangalore (RVCE) came into existence in the year 1963 has in all around 12 departments with Master of Computer Applications department. The Rashtreeya Sikshana Samithi Trust located in Jayanagar Bangalore manages the college was formed in 1940 by Sivananda Sarma. This is a private technical co-educational institution located in the city of Bangalore. This college is affiliated to VTU Belgaum (Visvesvaraya Technological University). This college aims at Leadership in Quality of Technical Education & skills which helps the students to go into, Innovation, Research & Development, etc. The students here are encouraged to go for further studies that are postgraduate studies along with research programs. The college is located on the Mysore Bangalore highway with a very beautiful campus. The college is far from the noisy city center as well as the traffic concerns, which form a good environment for the students studying here. Now as the metro is coming up, students coming for studies can travel to any part of the city in no time. So weekends for the students are also very fine here. The global village IT Park is suited very well beside the college which has a good number of MNC companies to encourage the people.
For RV college of Engineering, Bangalore (RVCE) Direct admission Contact: 08150855000
RV College of Engineering, Bangalore (RVCE) motivates students to participate in several areas of activities like programming skills which gives a boost to the students in today's challenging world. This institution is one among the top 10 self-financing Engineering colleges within the country. Thus this college provides an excellent environment for the students personal & career development. Thus students go in for direct admission to this institution in by taking admission to management NRI quota seats. The administrative block provides all the fee structure details to the courses available for the admission.
For RV college of Engineering, Bangalore (RVCE) Management Quota Contact: 08150855000
Courses Offered
Under Graduate :
Computer Science & Engg
Mechanical Engg
Civil Engg
Electrical & Electronics Engg
Telecommunication Engg
Industrial Engineering & Mangt
Instrumentation Tech
Information Science & Engg
Post Graduate Courses:
M. Tech in Computer Science & Engg
M. Tech in Digital Communication & Networking
M. Tech in Structural Engg
M. Tech in Computer Network Engg
M. Tech in Power Electronics
M. Tech in Machine Design
M. Tech in VLSI Design & Embedded System
Eligibility Criteria
Candidates must and should have studied English as one of the languages. Students should have a score of at least 45 percent marks in the qualifying examination that is he must have cleared their Class 12 examination or an equivalent exam with Mathematics and Physics as compulsory subjects. Candidates who belong to Schedule Caste, Schedule Tribe or Schedule Caste category Category-I and OBC category have to secure at least 40 percent marks to be eligible.
Fees Structure
RV College of Engineering FEES STRUCTURE
Course
Fees
Chemical Engineering
3,00,000
Civil Engineering
4,50,000
Biotechnology
3,00,000
Electrical and Electronics Engineering
4,00,000
Electronics & Communication Engineering
5,00,000
Industrial Engineering & Management
3,50,000
Information Science & Engineering
6,50,000
Instrumentation Engineering
3,00,000
Mechanical Engineering
6,00,000
Telecommunication Engineering
3,00,000
B.E. Arch. Engineering
5,50,000
Aerospace Engineering
4,00,000
Computer Science and Engineering
8,50,000
Other Fees
HOSTEL: RS 43,000/YEAR + MESS BILL RS 2500/MONTH
TRANSPORTATION: RS 22000/YEAR FROM BANGALORE
Placements
The RV College of Engineering Bangalore placement department ensures that the students are recruited & placed by the top corporate in the world. The college by co-coordinating with more than 1050 leading companies takes care of this. Along with this it also meets the needs of every recruiter's demands. The top recruiters who visited RVCE campus are HCL, Amazon, TCS, Yahoo, Wipro, & IBM.