Career guide is an individual or publication that gives right path to people facing a range of career challenges .To build a career and thus a livelihood is very important factor in our life. You have to be very selective in making a career and you can find suggestions doing that over here. Career choice that we made turns our life by a great measure. Even though salaries matter, if you get into a profession which you love, you will be happy throughout your Life.
On the other side if you just work for those extra income alone, you have to be unhappy a lot. Many experts forecast the emergence of new vacancies in the upcoming years with focused educational courses developing to serve the industrial needs. The job market has become more dynamic in recent years and you have to be extra careful while selecting your professional role or else a course that suits you for it. You may get a ample range of options to choose your career from, which is an implications of globalization and it is more important to know how the career tests for different course looks like. So, it is Important that you need career Guidance from experts to have a good Carrer. Career guidance more frequently involves supporting students and adults who are trying to choose their career. With our wide awareness of schools and colleges, we can guide the students in selecting the good colleges. We will guide you with all the necessary information about Institutes that provides courses as per your necessity and also assist you to apply in those colleges or universities. Students can get Career Guidance information about courses which they need to take in our site admissionkaro.com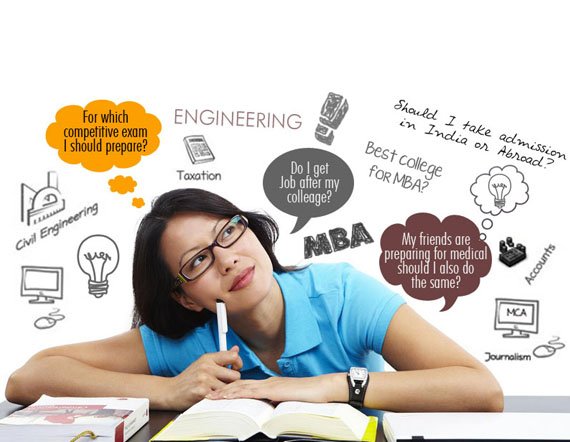 ELIGIBILITY CRITERIA FOR VARIOUS COURSES
Engineering
B Tech : Pass in 10+2 from any one of the universities in Karnataka or its equivalent with at least 45% of the aggregate marks are eligible to apply. Those who have appeared in the qualifying exam are also eligible to apply. Candidates should have completed 17 years on 31st December of the year of admission. In case of candidates belonging to Scheduled Castes, Scheduled Tribes and Other Backward Classes, the minimum marks for the purpose of eligibility will be 40% of the aggregate marks in the optional subjects in the qualifying examination.
M Tech : A candidate who has passed prescribed qualifying examination (BE / BTech / BArch) or equivalent examination and obtained an aggregate minimum of 50% marks taken together in all the subjects in all the years is eligible for admission to M.E. / M. Tech / M. Arch (Infrastructure Management) courses. 45% of marks in both qualifying examination in case of SC, ST and Category-I candidates.
Medical
MBBS : Duration : 4 ½ years plus 1 year compulsory rotating internship. General Category : Indian Nationals, Foreign nationals having OCI/PIO cards. Date of Birth : Should fall on or before 31.12.2000.
Qualification : Pass in 10+2, A level, IB, American 12th grade or equivalent with Physics, Chemistry, Biology/Biotechnology and English individually with a minimum of 50% marks in Physics, Chemistry and Biology/Biotechnology taken together.
MD : Duration: 3 years (The duration of MD Course is 2 years for those with a 2 years recognized diploma in the same speciality) PG Medical Diploma – 2 years
General Category: Indian nationals, Foreign Nationals holding OCI/PIO cards are eligible for admissions under General category.
Foreign/NRI Category: Foreign nationals with OCI/PIO cards or NRI or Indian nationals supported by either Parents or Brothers or Sisters or Spouse having an NRI status are eligible for admissions under Foreign/NRI category.
Qualification: Pass in MBBS degree recognized by Medical Council of India. Candidates completing their compulsory rotating internship on or before 30.04.2017 are eligible.
Note : Candidates completing internship after 30.04.2017 are not eligible for the admissions in this academic year.
Registration: Candidates should have obtained permanent registration with Medical Council of India/State Medical Councils & Karnataka Medical Council and should submit the same on or before the commencement of classes.
Management
MBA : The candidate must have passed the Bachelor's degree with at least 50% (45% marks for SC / ST category candidates )aggregate marks in all the years of degree examinations. Those who are applying for part time course should have work experience of at least 3 years & must be working in a organization which is not more than 40 kms from the institution, he / she is planning to take admission.
Karnataka MBA CET is the entrance examination conducted for taking admission in Karnataka for MBA. For seating in this entrance examination you should have following eligibility criteria.
You should have minimum 50% of marks in your graduation.
You should have minimum 45% of marks in graduation if you are a ST/SC candidate
BBA : Passing Higher Secondary or equivalent is a must. Minimum of 40% in the qualifying exam. English should be one of the subjects.Should be a citizen of the country. General age bar is a minimum of 17 years and maximum 22 years. Residents of the state are given preference. No criminal records in the state and the national.
Dental
BDS : For this course, the minimum eligibility is passing senior secondary examination with an aggregate score of 50% from a recognized board or equivalent examination. It is required to have Physics, Chemistry, Biology and English as subjects in 12thclass.
The admissions are taken by conducting entrance tests. The candidates with their senior secondary examination results awaited are welcomed to apply for this course.
The higher secondary examination or the Indian School Certificate Examination which equivalent to 10+2 Higher Secondary Examination after a period of 12 years study, the last two years of study comprising of Physics, Chemistry, Biology and Mathematics or any other elective subjects with English at a level not less than the core course for English as prescribed by the National Council for Educational Research and Training after the introduction of the 10+2+3 years educational structure as recommended by the National Committee on education.
MDS : To be eligible for this course, the candidate has to be a Bachelor of Dental Science graduate from a recognized Dental College in India with a minimum of 50%. Candidates possessing a PG Diploma recognized by Dental Council of India with the duration of two years is also eligible for MDS.Admission to the course is entirely on the basis of an Entrance Exam. Since, various colleges conduct different Entrance Examinations or follow the state or national level common entrance examination, it is important to keep a track of these different Entrance Exams.