BSC Allied Health Science Colleges in Bangalore
What is Allied Science ?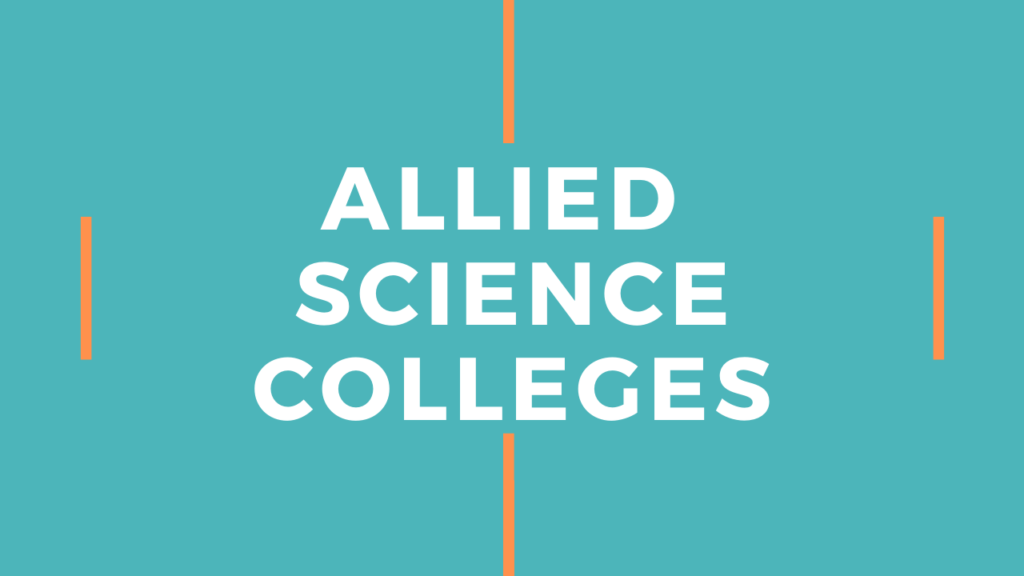 Allied Science Professionals are a prominent group of healthcare experts that implement their proficiency to intercept the transmission of diseases, create patient diagnoses, offer treatment and rehabilitation services to people of all ages and with all kinds of specialized needs.
Allied Science is the study of this paramedical branch of human sciences. It is the backbone of all of the world's health care systems. The goal of Allied Sciences is to prepare individuals who have the expertise to deliver excellent patient care, provide diagnoses, rehabilitate them, treat them and mediate improvement of health so as to reinstate, maintain and retain excellent physical, mental, physiological, environmental, social and holistic functions.
The role of an Allied Science expert is to work in conjugation with the healthcare providers to give exclusive services in order to promote recuperation and improve the quality of life. Currently, according to The World Health Organization, there is an estimated shortage of 2 million health care workers, with the exclusion of nurses, dentists and medical professionals, in order to achieve global health goals. The shortage of skilled manpower has been India's greatest hindrance in delivering optimal health care services to its people.
According to a study, there currently is a shortage of about 65 lakh Allied health professionals in India, which is the greatest among all the medical and the paramedical fields. Hence, more skilled Allied Science experts are the need of the hour as they perform a key role in universal medical management and are an indispensable part of a health care team.
Eligibility to Get an Admission in BSC in Allied Health Sciences
In order to build a career in the health care sector, one must begin by obtaining specialised training in the field. A Bachelor's degree is an optimal start to this career. So as to pursue a BSc in Allied Health Sciences, the basic requirements are as follows:
The prospective candidate should have passed a Higher Secondary (10+2) or equivalent board exam in the stream of Science (with subjects of physics, chemistry, mathematics/ biology and in some courses, English) and have a minimum of 60% score in them.
Candidates must have attained the minimum required age of 17 years by December 31 of the year of admission.
Different colleges have different eligibilities, so kindly refer to individual websites.
Many private and deemed universities have their own entrance exams which the candidate is required to pass and score a merit rank in order to obtain admission to their respective degree courses.
Admission Procedure to Get an Admission in BSC in Allied Health Sciences
In different Universities there is a different procedure to acquire admission in BSc in Allied Health Sciences. In many reputed and deemed universities one must pass and obtain merit in their entrance exam. To register for the entrance exam the candidate must visit the college website and register themselves for it online after paying the stipulated exam fees. Once exam is taken and the candidate obtains a satisfactory result, he must appear on the authorized date to the reporting centre of the respective university along with the following documents:
Exam hall ticket (if applicable)
Exam score card (if applicable)
10th standard Passing certificate and marksheet
12th standard passing certificate and marksheet
Domicile certificate or a proof of residence
Valid Indian ID like Adhar Card
Reservation Category Certificate if applicable
Medical fitness certificate (if applicable)
Migration Certificate
Transfer Certificate
Few Attested photo copies of each document
Few Passport size photographs
Admission fee
The Bachelor of Science in Allied Health Sciences is a 3 year course made up of 6 semesters. Each semester is 6 months in length. The various fields in which a student can pursue this degree is anesthesia, audiology, clinical laboratory science, nutrition and diet, ECG technology, Medical assistant, Medical interpretation, Medical scribing, radiology, cardiac perfusion technology, intensive care technology, neuro electrophysiology (NEP), Diabetic sciences, Renal dialysis technology and Emergency medical technology to name a few.
Some of the courses also have an additional internship year such as in BSc Optometry. The fee of this course is usually from 40,000 to 1.5 lakh rupees. A Bachelor's Degree is the first stepping stone to be an expert allied health sciences professional. It has great career scopes as well as a simple learning and integration curve.
Admission Procedure to Get an Admission in MSC in Allied Health Sciences
Candidates who have completed their Bachelor's in Allied health Sciences have an option of either working in various hospitals, medical centres, schools or government departments, or they can pursue a master's degree, gaining further expertise and knowledge in their field.
In order to obtain admission in a master's degree in allied health sciences, the student must obtain a satisfactory completion of the Bachelor's degree in the same. The Master's degree is of about 2 years which is divided into 4 semesters of 6 months each.
The various master's degrees that one can enroll into include but are not limited to – Medical Laboratory Technician, Clinical nutrition and food sciences, Deglutology and swallowing disorders, Diabetes sciences, physician's assistant, medical oncology, neuro electrophysiology (NEP) and so on.
A post graduate diploma is also available in some of the fields. Some of the courses require the student to have completed not only the bachelor's degree, but also obtain either some years of work experience or have some amount of internship experience.
In order to learn more about the course eligibility and requirements the student must visit the website of the university in which they wish to enroll themselves and follow the rules and regulations prescribed by them. Some Universities also  take interviews before announcing the selected candidates.
The fees of the course ranges from 30,000  to 1 lakh rupees. This fee is excluding the hostel and mess facilities. Applying to a master's degree is the next  best thing that one can do for the advancement of their career.
Why Should You Choose an Allied Health Sciences Course
As the world of science and technology advances, the need for skilled manpower also increases. Allied Health Sciences is a branch of the health care system which has revolutionized patient wellbeing.  It is a modern and newly emerging field which includes experts who are passionate about advising preventive, diagnostic and rehabilitative therapies for their patients.
With an enormous increase in the Medical Services industry, Allied health science graduates have a great scope to advance their careers. If one is passionate, not only about studying human biology but also has quick problem solving skills they must consider a career in allied Health Sciences.
The  Allied  Health Sciences course comes with all the benefits of being a medical professional  and practicing alongside one,  without the taxing study material of a medical professional course. This is a great course to develop a deep knowledge in human sciences which can be beneficial for any future studies in a range of Healthcare Sciences.
It is a great option for someone who wishes to assume management, educational or clinical positions. Doing this course will also help fill in the large gap between health care providers and health care seekers, which is also a significant service in itself. The students not only learn about various Health Care practices,  but they also learn about ethical, legal, moral and social etiquette. Hence it is a very valuable degree which helps create well, all rounded and world wise professionals.
Career Opportunities After Doing Allied Health Science Courses
Medical Science has reached unparalleled heights thanks to technology, research and development. Since the world of Medical Science is not only made up of doctors and has many other moving parts, this advancement has created a large boom in the career openings present for allied science graduates.
The various employment opportunities that a student can have after graduating from the bachelor's degree can include posts such as biostatistician, clinical laboratory scientist, system analyst, clinical data coordinator, audiologist, chemist, medical writer, medical scribe, medical interpreter, radiologist technician, clinical research associate, and many more.
After graduating professionals will have a chance to work with many different types of institutes such as teaching hospitals, academic programs, private clinics, legal content writing, medical records writing, medical transcribing, hospitals, Medical Research work, as well as work in medical Systems management.
Allied Medical Science  practices include the use of various skills, such as medical terminology, basic life support, communication and counselling skills, documentation and interviewing skills, as well as efficient computer skills and technology expertise. It is a lucrative and extremely sought after career opportunity which is fast growing and has great incentives.
Best Allied Health Science Colleges in Bangalore
Acharya Institute of Health Sciences
M. S. Ramaiah University of Applied Sciences
Vydehi Institute of Medical Sciences
The Oxford Medical College, Hospital and Research Centre
Narayana Hrudyalaya College of Allied Health Sciences
Rajarajeshwari Medical College of Allied Health Sciences
Christian Institute of Allied Health Sciences
Sapthagiri Institute of Medical Sciences and Research Centre
R R Institute of Allied Health Sciences
A. J. Institute of Medical Sciences and Research Centre
FAQ on Allied Science Colleges in Bangalore
What is BSC Allied Health Sciences ?
Allied Science is the study of this paramedical branch of human sciences. It is the backbone of all of the world's health care systems.
Which is the Best Allied Health Science Course?
Call us on 08150855000 to know about Best Allied Health Science Course and it's Admission Procedure.