Admission in Top BSC in Anesthesia Technology Colleges in Bangalore | Direct Admission & Management Quota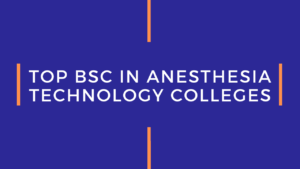 WHAT IS BSc IN ANESTHESIA TECHNOLOGY BANGALORE ?
Anesthesia is one of the largest fields in medical sciences which is utilised in almost all dimensions of medical care. Bsc in Anesthesia Technology is one of the allied health care science degrees which enables the degree holder to have a well rounded knowledge in the instruments, techniques, drugs and supplies of anesthetic medical care.
They have a great understanding about the pharmacology of all the anesthetic and general use drugs and are experts at the preparation and handling of anesthetic trolleys, operation of gas system, operation theatre workings, and the use of inhalational pharmacotherapy. Anesthesia technology graduates are specialists in assisting, delivering and monitoring anesthesia to patients in the operation theatre.
This degree helps the student to become an expert at choosing the correct anesthetic agent required to deliver to the patient in relation to their medical conditions.
ADMISSION PROCEDURE IN BSc IN ANESTHESIA TECHNOLOGY
In different colleges, the admission procedure for BSc in Anesthesia Technology is different. There are mainly two ways by which the admissions are conducted. One way is through the basis of scores obtained in the Higher Secondary (10 + 2) board exams or any other equivalent exam.
Some of the Universities award admission on the basis of the merit score obtained in their entrance examination. It is advisable that the student check the website of individual universities to see their respective admission procedures. Some of the entrance exams are The NEET Exam (National Eligibility cum Entrance Test), AIIMS Exam, Bangalore University Entrance Exam and more.
It is a 3 years course made up of 6 semesters, each semester being 6 months long, along with additional 6 months to 1 year of clinical internship experience. The fees of the course ranges from Rs. 20,000 to Rs. 3 lakhs per annum.
ELIGIBILITY FOR ADMISSION
The eligibility for admission to the BSc in Anesthesia Technology course is as follows:
1. Each candidate must successfully complete class 10th and class 12th Higher secondary board exams or any other equivalent exams.
2. Students must appear in the exams of the subjects of Physics, chemistry, Biology and English
3. Many institutes expect at least a 45 – 50% passing score in the exams.
4. Securing an above merit score in the entrance exams as prescribed by the respective University
FUTURE SCOPE OF THE DEGREE
The future as an Anesthesia Technologist is bright. The student acquires great life skills during the course such as the management of time, the ability to work under pressure, team work, critical, logical, problem solving skills, decision making and problem solving, active judgement and listening skills, and keen observation and monitoring skills.
Many top institutes and hospitals are always actively hiring anesthesia technologists, with superb remunerations, incentives and pay. The duty of an anesthetic assistant is to assist a surgeon and an anesthetic doctor in the operation theatre and in the outpatient departments as well.
The job posts that a graduate in anesthesia technology usually applies for are operation theatre anesthetic assistant, pediatric anesthetic assistant, obstetric anesthetic assistant, cardiothoracic anesthetic assistant, medical consultant, neuro anesthetic assistant, intensive care anesthetic assistant and many more. The starting salary of an anesthetic technologist ranges from Rs 2 lakh to Rs 4 lakh per annum.
The future study opportunities to do a master's degree is also a great option after the completion of a bachelor's degree. The masters degrees available in India are MSc in Anesthesia and Operation Theatre techniques, MSc in Operation Theatre techniques, research and PG Diplomas in the same.
BSc IN ANESTHESIA TECHNOLOGY COLLEGES IN KARNATAKA
1. Shrinivas University, Mangalore
2. Manipal School of Allied Medical Health Sciences, Mangalore
3. Narayana Health Institute of Allied Medical Sciences, Bangalore
4. J. S. S. Medical College, Mysore
5. St. John's National Academy of Health Sciences,, Bangalore
6. Kidwai Memorial Institute of Oncology (KMIO), Bangalore
7. Acharya Institute of health Sciences, Bangalore
8. The Vydehi Institute of Medical Sciences and Research Centre, Bangalore
9. A. J. Institute of Medical Sciences, Mangalore
10. KLE Deemed University of higher Education and Research
Call us on +918150855000 to know about the admission procedure. We also provide direct and management quota admission.
FAQ on BSC in Anesthesia Technology
How to Get Admission in BSC in Anesthesia Technology in Bangalore ?
Call us on +918150855000 to know about the admission procedure. We also provide direct and management quota admission.