B.Sc Radiotherapy Technology Admission Colleges in Bangalore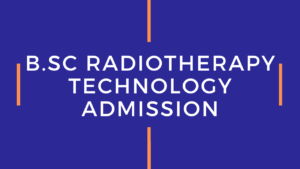 WHAT IS BSc RADIOTHERAPY TECHNOLOGY
Radiotherapy is one of the modes of treatments of cancer. A BSc in Radiotherapy technology, or a BSc in RTT is a degree which enables the holder to be able to administer this treatment modality to cancer patients. Radiotherapy involves the discharge of ionizing radio waves towards a target organ, destroying the cells that they encounter, and stopping their growth.
There are many ways that Radiotherapy is useful, either pre surgery, where the radio waves are used to reduce the size of the tumor, post surgery, where this therapy can help in destroying any remaining tumor cells, or in combination with chemo and other modes of therapy at the same time. The key aim of the course is to inculcate in students the expertise and knowledge of radiotherapy.
ADMISSION PROCEDURE OF BSc RADIOTHERAPY TECHNOLOGY
The degree course is a three year full time course with a semester wise examination system. Some Universities also have a 6 months – 1 year internship program after the degree. It gives the student a knowledge of how to treat cancer and related diseases with the help of ionizing radio waves. The admission to this degree course is usually done either by a merit system or by an entrance examination.
The first method which involves a direct admission is a path which is generally followed in most universities in India. In this, if the candidate has appeared for their 10+2 Higher Secondary or equivalent exam, they must register with the college or university of their choice. After this, a cut off score will be released which will determine if they secured admission or not.
The Second method is through an entrance exam. By this route, students are selected as per the marks that they secured in the entrance exam held by the university. In order to sit for the exam, each candidate must apply to the respective college after which they will be directed to give the exam. A merit list will be released by the college after the exam, securing a place in the merit list will make the student eligible to enroll in that college. The course fee ranges from Rs. 20,000 to Rs. 2 lakh per annum.
ELIGIBILITY FOR ADMISSION IN B.SC RADIOTHERAPY TECHNOLOGY
The Eligibility criteria to secure admission in BSc in Radiotherapy Technology is as follows:
1. The candidate must have passed the Higher Secondary (10 + 2) board exam or any other equivalent exam.
2. Their examination Subjects should include Physics, Chemistry, Biology, and English.
3. Many institutes expect at least a 45 – 50% score in each subject
4. Institutes that conduct an entrance exam require the student to be a merit holder in that exam.
FUTURE SCOPE IN B.SC RADIOTHERAPY TECHNOLOGY
A job as a Radiotherapy technician is a highly profitable career path. After graduating, the student can work in various different institutions such as hospitals, public health care centres, colleges, private clinics and hospitals. It is a highly in demand job and a future with this career is bright. It is a necessity to have a Radiotherapy technician in each and every hospital, since it is key in the diagnosis and treatment of various diseases. The average salary that a radiotherapy technician can earn is Rs 2 lakh to Rs 4 lakh per annum.
The student can also go ahead and pursue a masters degree in the field, which will impart greater skill, knowledge, experience and confidence. The salaries and the profession of a student after completing a master's degree is even more gainful. The career opportunities after completing masters are numerous and varied. Some of these include Radiation oncology, Nuclear Medicine Technology, Radiation Therapy, MRI technology, CT scan Technology, Radiology assistance and maintenance, Radiation nursing, Academia such as teaching, and Research and Development.
BEST BSc RADIOTHERAPY TECHNOLOGY COLLEGES IN KARNATAKA
1. Father Muller College of Allied Health Sciences, Mangalore
2. Kidwai Memorial Institute of Oncology (KMIO), Bangalore
3. Narayana College of Allied Health Sciences, Bangalore
4. The Bangalore Medical College and Research Institute, Bangalore
5. The Vydehi Institute of Medical Sciences and Research Centre, Bangalore
6. St. John's Medical College, Bangalore
7. Sanjay Gandhi Institute of Trauma and Orthopedics, Bangalore.
8. Acharya Institute of health Sciences, Bangalore
9. Dr. B. R. Ambedkar Medical College, Bangalore
10. St. Ann's Institute of Health Sciences, Mangalore
FAQ ON B.SC RADIOTHERAPY TECHNOLOGY COLLEGES IN BANGALORE
How to Get Admission in Best BSC Radiotherapy Colleges in Bangalore ?
Call us on +918150855000 to know about the admission procedure. We also provide direct and management quota admission.